What do you know about Webtoon?
Have you ever read or heard about the Webtoon genre? What are the characteristics of this story? How is the content? Let find out information about Webtoon meaning and details about this term.

First and foremost, what is a webtoon?
Webtoon is a digital comic platform at the cutting edge of the business. The genres and graphic styles of these digital comics are varied. Webtoon is a vertical and scrolling color comic book made specifically for smartphones and tablets. Despite the fact that these Webcomics were created in Korean, the creators are able to convert them into other languages such as Chinese, Japanese, and English. Because Korean Webtoon is so famous across the world, the need for readers and visitors is growing by the day.
What are the outstanding features of Webtoon?
(Webtoon app)
1. Webtoon provides a diverse collection of comics of all genres
There are a variety of genres available on this site, including romance, science fiction, and detective stories. All are shown in English to assist users in learning and improving English abilities such as translation and vocabulary. Furthermore, Webtoon's story collections are updated regularly, ensuring that you always have stories to keep your readers entertained.
2. Easily search for stories by interest
Webtoon organizes tales into categories such as interest, top series, date, news items, and special comics. Webtoon will recommend 7 to 10 of the best comics in each section for your consideration and decide to read This tool allows you to discover your favorite stories without wasting time.
3. Mark the chapter as read
Webtoon supports users to mark read chapters by displaying a different gray color in the read chapters. From there, help you remember where you have read, and next time chooses the next chapter to follow the story.
How Webtoon helps the Korean entertainment industry expand
Webtoon digital comics inlcudes Manhwa based on unique content are becoming increasingly popular among K-pop businesses, drama producers, and even game makers. In recent years, webtoon has grown in importance as a marketing tool for expanding the breadth of intellectual property and a means for Korean artists to reach out to new audiences. Of course, leading K-pop entertainment businesses aren't the only ones profiting from the webtoon's rising popularity and potential.
The SBS drama Our Beloved Summer, based on the romantic comedy of the two main characters Choi Ung and Kook Yeon-Su, has also become one of the newest works to be adapted from a digital comic. Previously, several well-known kimchi film and television productions, including Itaewon Class and Mystic Pop-up Bar, were based on webtoon stories.
In addition, game publishers are among the new businesses to join the trend of webtoon creation.
According to Lee Hee-Youn, the projects above the head of IP business at Naver Webtoon, are all part of the unparalleled diversity of content testing activities made possible by the expanding partnership between webtoon and the entertainment sector.
Meanwhile, Jang Min-gi, a professor of media and journalism at Kyungnam University, believes that the rise of webtoon has blurred the lines between entertainment genres like webcomics, dramas, and music, rather than creating a massive IP "world" that people can access from any platform.
That's great if you find the best websites to read Manhwa online for free. Therefore, Webtoon.info will introduce to you the 5 best Manhwa websites for you discover the top Manhwa that you like. Here are the list:
That's great if you find the best websites to read Manhwa online for free. Therefore, Webtoon.info will introduce you to the five best Manhwa websites for you to discover the top Manhwa that you like. Here is the list:
1. Tappytoon
The reason why says Tappytoon is the best webtoon software is in part because it has the Solo Leveling masterpiece and the friendliest user interface currently accessible, giving you an enjoyable experience. Tappytoon allows you to see advertisements and earn money that you may use as you choose.
2. Webtoon
Manga enthusiasts may read fresh installments of their favorite stories on this entertaining website and mobile app for kids. Webtoon is an excellent place to start if you're tired of reading DC and Marvel's superhero comics and want to try something else.
3. Lezhin Comics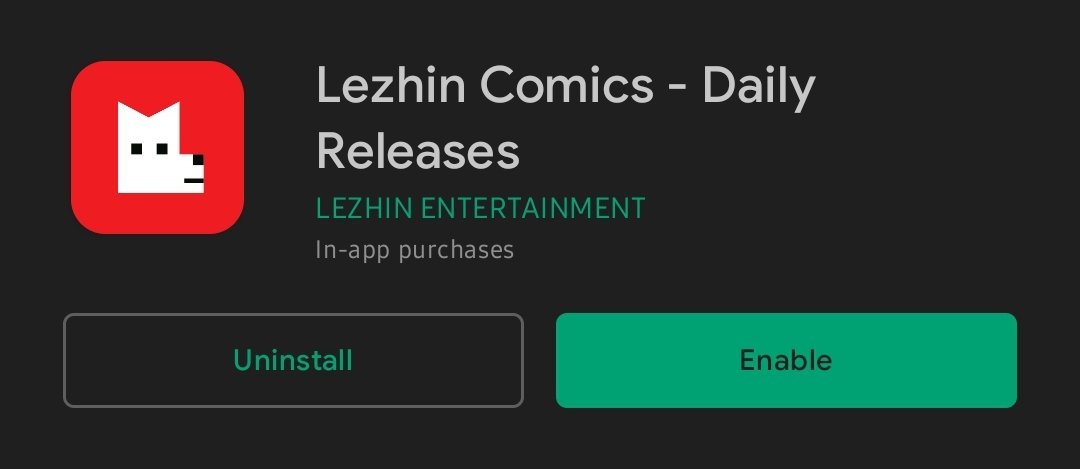 Lezhin Comics is the best webtoon app for those who love adult stories. Also, this site offers various genres like romance, action, and supernatural. As with other webtoon apps, you can read the story collections for free.
4. Toomics
Toomics is one of the leading WebToons online platforms with approximately 53 million users, 22 million purchases, and page views of over 2.6 billion users. In addition, Toomics has over 10 million app downloads around the world. Currently, Toomics operates in several countries and has over 200 active employees translating WebToons and advertising them globally. In Korea, Toomics is one of the oldest and leading WebToon platforms with talented digital content creators.
5. Amazon Kindle
One of the most well-known online reading services in the world is Amazon Kindle, which offers users access to thousands of books, periodicals, and comics in a variety of genres. The UI is very user-friendly and straightforward. With just a few simple steps, you can design the reading interface to your liking by customizing the text size, font type, margin alignment, and choosing whether to switch pages from left to right or scroll continuously. Additionally, you may alter the backdrop color and brightness when reading day or night to protect your eyes.
Final Thoughts
Above is the useful information about Webtoon that Webtoon.info wants to provide you. In addition, the article also offers the best websites for you to enjoy your favorite Manhwa series. Moreover these sites you will experience reading books for free. Hopefully, the article will help you. Enjoy reading!